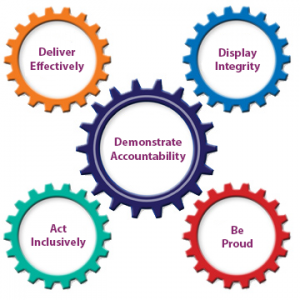 Our core values and behaviours framework describes some of the values and behaviours
that are central to providing good quality, personalised and effective care to people
who need care and support in the adult social care sector.
Having a clear core values and behaviours framework enables organisations to effectively
recruit and manage staff who fit with their organisation's culture, and who will
therefore deliver the best outcomes for people who need care and support. It
underpins a values and behaviours-based approach to the recruitment and
management of staff.

 Deliver Effectively
We strive to ensure the best possible outcomes for users and carers.
We look for ways to do our jobs better – pushing the boundaries of professional practice and always seeing ways of serving users and carers better.
We seek to understand the rationale, benefits and impact of business decisions.
Our leaders provide clear direction, space for us to do our jobs well, feedback on progress and support and challenge where necessary.

 Demonstrate Accountability
We own what we do, acknowledging and learning from when things could have gone better and our mistakes, challenging systems that don't work, and taking responsibility for finding solutions.
We share information and learning so we work as one team and deliver the highest quality outcomes.
We take ownership for delivery on our commitments, we ask for feedback and act on it to make sure we are always improving.

 Display Integrity
We treat others as we would want to be treated ourselves, we are honest and open, and we mean what we say, we do the right thing.

 Act Inclusively
We trust each other, respecting and valuing equality and diversity and our individual contribution.
We seek out people's views, listen to what they say and tell them what we are doing.
We are willing to explore other people's perspectives to understand their challenges, pressures and demands and we work together for our mutual benefits.
We actively look to breakdown boundaries and work together as one.
We are always positive and considerate when we deal with other people.

 Be Proud
We act as a role model for Augusta values.
We promote great performance and celebrate success.
We come to work to make a difference, set ourselves high goals and act with energy.
We speak confidently and optimistically.